32 Ford 3 Window Coupe For Sale
1932 32 SC South Carolina For Sale Project Car
1932 Ford 3 Window Coupe. All original steel body & frame.
32 Ford 3-Window Coupe - $30,000.00
ALL STEEL PARTS - NOT CHOPPED
HUGE LIST OF PARTS BELOW
CLICK HERE TO SEE GALLERY OF 1932 3 WINDOW COUPE FOR SALE
CLICK HERE TO READ ALL INFO ABOUT CAR - LIST OF PARTS ETC.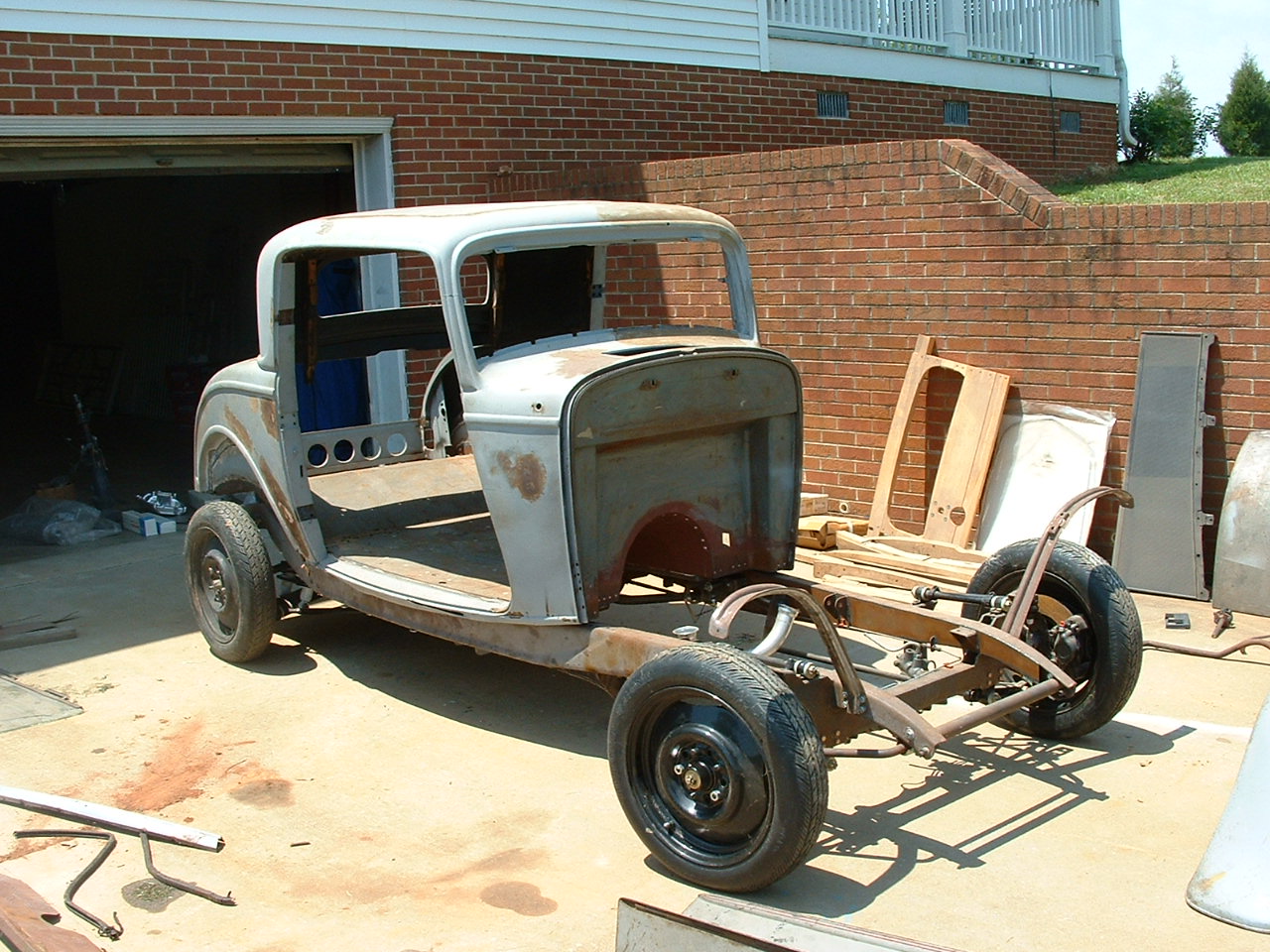 Here are some pictures of my 32 Ford 3 window coupe. I would say the car is 75 % to 80 % complete.
The body needs the rocker panels and rear body panel replaced, they are already cut out. I don't have
the replacement panels but they are available. The doors need the outside skins replaced, right door
skin has been removed. Roof has been filled. The car has not been chopped. The outside handle on the deck lid
has been cut out, about 4" square.
About the chassis:

Deuce Factory frame rails boxed with 1 5/8" mild steel tubing bracing.

Jaguar front and rear suspension with custom, hardened sway bars.

Stainless steel inserts in all calipers.

Aluminum fuel lines with canister type filter installed.

Complete exhaust system installed with aluminum coating.

All suspension parts black powder coated.

Rear hubs polished.

Rear end completely re-built with all new parts.

Front suspension all new with urethane bushing.

Taurus power rack installed.

Battery box installed on passenger side of frame.

Power brake booster and master cylinder installed with foot pedal.

Stainless steel brake lines with fitting installed.

Built by Hyper-Fab Chassis in Oakland Park, Fla. it's a very nice, built chassis!

Here's a list of the new parts I have:

door striker plates
rumble lock strike plate
rear window roll down channel kit
new door window channels
rumple seat brackets original
R&L front fenders and braces.
headlight stainless wiring covers
v8 hood emblem
chrome license plate bracket 2 pieces
new tail lights
hood latches and rubber bumpers
Cowl light pads
coupe back window regulator new
cowl light pads
new polished hood handles
rumble seat step mounts bumper
cowl vent ratchet
right rear apron channel seal
new cowl vent hinge
R&L rear frame horn covers.
gas tank apron channel
Front center filler, goes under grille shell.
4 new bumper bolts
Gas tank with all plumbing.
hood bumper grommets 12 piece
Stainless steel grille insert with surround molding.
radiator shell wiring grommets
radiator shell lacing cloth
R&L stainless headlight assemblies.
windshield frame screw 8 pieces
R&L running boards.
hood latch screws and nuts
Front & rear bumpers with brackets.
headlight stand mounting pads
Walker radiator with a/c condenser built in.
right and left door handles new
Wabbitt rosewood dash with Dakota electronic gauges, and matching door arm rests with inside handles.
rumble lid lower bumper stop set
KYB gas shocks, rear only.
right and left windshield swing arms
Oak wood kit.
right and left door handle pads
Chrome parking brake assembly.
Stainless steel headlight bar to fender bolts
Car is setup for 302 (5.0L) with C/6 AOD transmission.
bumper end caps




Engine parts:

SD 508 A/C compressors with brackets, 302 Ford setup polished aluminum.

Small GM powering steering pump with polished aluminum brackets.
A-pillar garnish moldings
Eldbrock 302 Ford intake polished.

Polished aluminum 5.0 Mustang valve covers.

Drive shaft for C/6 overdrive transmission.
used upper windshield header bar
Here's a list of used parts:
OTHER PARTS

Hood

2- used grille shells in good shape.

Original dash has been fitted with aluminum gauge panel.

original dome light interior

R&L used rear fenders in good shape.

Grille insert

Headlight bar

R&L door glass for pattern only.

Rear glass

Extra firewall has been cut.

Extra "Bitchen" floor panels I didn't use. I made new floor

Pontiac Grand Am steering column with tilt, cruise, radio & light controls.

86 Thunderbird bucket seats, 6-way electric with lumbar on both sides. Have been installed.

Inside 2 doors right/left and one rear window garnish moldings chromed.
More pictures available upon request.
$30,000.00
Any questions please email me

I have had this car for over 20 years. It has a Florida title.
I'm sure I've left out some other parts I have stored in boxes.
Let me know if you have any question.
1932 Ford 3 Window Coupe For Sale 32 Car